Customer service is king. Everyone has experienced at least one nightmare situation where you have a problem with something you've bought, and the company you purchased it from couldn't care less. They ignore you, try to palm you off, or give a half-arsed excuse of customer service while doing the absolute minimum to adhere to the basic legal rights of the consumer.
While I am greatly predisposed towards complaining on this website (and there is a lot to complain about), never let it be said that I don't acknowledge good customer service where I find it, and I found it this week at John Lewis.
In November 2010 I bought a cheap electric heater from John Lewis. It worked capably well for two years, and then this happened: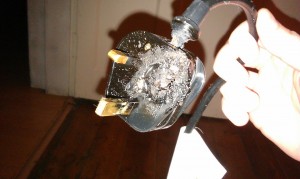 It suddenly died and the plug socket set itself on fire. If you're wondering this was a De'Longhi brand heater.
Anyway, I happened to still have the original box and receipt, and posted on John Lewis' Facebook to explain the problem. They replied pretty fast and asked me to email their customer services. Their customer services replied to me promptly to explain my email had been sent to my local branch. My local branch then emailed me to say they had my email, and would reply to me again shortly. They then emailed me again to ask for my phone number. I gave it to them and they rang me within the next couple of hours to ask me to bring the broken heater into the local store.
The next day I did so. They took one look at it and said they'd be sending it back to the manufacturer for examination and an explanation. In the meantime they offered me a free replacement of any heater in my local store's range. I was conscious that I'd only spent £20 on the original heater, and not wanting to take too much advantage of them I picked a mid-range model that was £35. They rang this through the till (at no cost to me), and gave me a receipt and warranty for my new heater.
They then rang me 2 days later to inform me that the old heater had been sent back to the manufacturer and they'd let me know as soon as they heard back.
Now, obviously a heater spontaneously setting itself on fire is something of a safety hazard. John Lewis had good cause to worry that I might go into their store, guns blazing and full of righteous anger. Unusually in this situation I was vaguely aware that John Lewis were supposed to be quite good at customer service, but I'd never experienced it myself. I was content to sit and wait to see what they'd do after I reported the problem.
From start to finish my broken heater was replaced and sent to tbe manufacturer within 3 days. Pretty good work.
De'Longhi is another matter, and I will update this post as soon as I hear from them. Some form of compensation would seem to be in order, but insofar as John Lewis goes, I'm not sure what more I could have expected of them. Decent customer service really makes a change, although I'm just glad I'd kept my receipt!
One final note: I bought my heater on the 29th November 2010. It decided to melt down on 29th November 2012. 2 years TO THE DAY after I bought it. Freaky.
Comments